Take your training to the next level, Achieve your black belt in around half the normal time it would normally, the black belt club will include the support needed with all the benefits below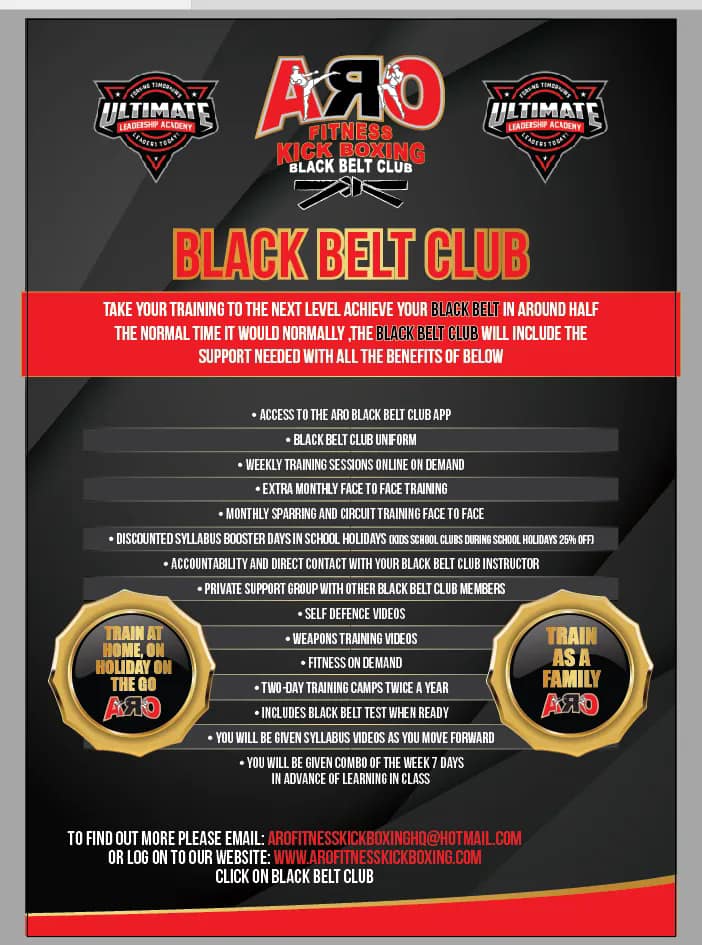 ARO Fitness Kickboxing Black Belt club
After 20+ years in the Martial arts world, surviving the covid lock downs, having students move away ,new students wanted to train the ARO way but lived to far away…. Families that wanted to train at home together and even students that wanted more sessions a week, plus students that wanted to attend all the extra workshops but found the cost becoming challenging, we decided to put together something that would work for everyone and cover all of this.
Only one membership required per household to train as a family
We came up with the exclusive ARO Black Belt club which gives you best of everything.
The BLACK BELT CLUB can be used to train at home
Or
To train at home with a few added specific face to face sessions
Or
The best of all as an add on to your normal training sessions combine these together and reach your black belt in around half the time you normally would.
THIS WILL BE LIKE HAVING A PERSONAL TRAINER IN YOUR HOME AT A FRACTION OF THE COST!
What you get by joining the Black Belt Club
Access To the Black Belt Club App
Once you have joined the Black Belt Club you will be invited to down load the app, This will be the start of your journey.
you will be given your weekly/monthly workout online on demand, be drip feed your syllabus (belts) join the Black Belt Club community, have direct contact with your Black Belt Club coach, and will receive ongoing training videos and More
Black Belt Club Uniform
You will be able to purchase the ARO Black Belt Club uniform please note that this is only available to Black Belt Club members
Extra Monthly Face to face BBC training
As part of your membership, you will be invited to attend monthly extra face to face training specific to Black Belt Club members included
ULTIMATE LEADERSHIP PROGRAME FOR KIDS
This is a new kids leadership program for 2023 being rolled out first for kids within the BBC
Monthly Sparring and circuit training face to face
You will be invited to the ARO monthly sparring and circuit training sessions as part of your membership at no cost saving £££££'s
*FULL SPARRING KIT WILL BE REQUIRED TO ATTEND SPARRING SESSIONS NO EXCEPTIONS*
Discounted syllabus booster days in school holidays (Holiday clubs)
As a member of the ARO Black Belt Club you will given a code to add to your shopping cart to save you 25% when booking
our school holiday clubs saving you ££££s, even more if you have siblings attending
Accountability and direct contact with your Black Belt Club Coach
Keeping you on track to gain your Black belt at the specific date given to you, support as and when needed via the app, join the Private support group via the app and support each other.
Self-defence Training videos (needed for Black Belt Grading)
Weapons training videos (needed for Black Belts Grading)
Fitness on Demand videos (Prep For your Black Belt grading)
Two Day Black Belt training camps twice a year
You will be invited to our twice a year two day training camps, which will perp you for your on going gradings including your Black belt, The cost of this will be included within your membership
THE BLACK BELT GRADING WILL BE INCLUDEED WITHIN YOUR Black Belt Club MEMBERSHIP
If you like what you see and would like to join the Black Belt club, please click on link below to set up your membership it's a monthly direct debit (no contract monthly rolling agreement)
As this is a new programme we will be running an intro price off only £19.99 per month per household for the first 25 members this introductory price will cut off at 25 memberships.
this will run alongside your Club Membership (Members) Once your direct debit is set up you will be added to the Black Belt Club *Please note the app will not be released until 1st February 2023 ALL DETAILS WILL BE SENT TO YOU ON THIS DATE.
IF YOU WOULD LIKE TO MOVE FORWARD AND JOIN OUR BLACK BELT CLUB OR HAVE ANY QUESTIONS PLEASE EMAIL US arofitnesskickboxingblackbeltclub@outlook.com WITH YOUR NAME, EMAIL AND MOBILE NUMBER AND WE WILL SEND YOU A LINK TO JOIN
WE ONLY HAVE 25 PLACES AT THIS INTRO PRICE