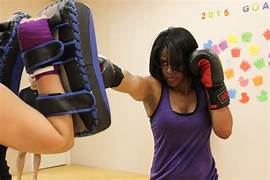 Introducing ARO Fitness Kickboxing's Ladies-Only Beginners Kickboxing Class! Are you looking for a fun and empowering way to boost your fitness, confidence, and self-defence skills? Look no further! ARO Fitness Kickboxing proudly presents our Ladies-Only Beginners Kickboxing Class, specially designed to cater to women of all ages and fitness levels.
Why Kickboxing?
Kickboxing is not just about punches and kicks; it's a holistic fitness program that combines cardiovascular conditioning, strength training, and self-defence techniques. Our expert instructors will guide you through every step of your journey, ensuring you learn the art of kickboxing while having a blast.
A Supportive Community
At ARO Fitness Kickboxing, we understand that stepping into a martial arts class can be intimidating. That's why our Ladies-Only class offers a supportive and non-judgmental environment. You'll be surrounded by like-minded women who share your goals and enthusiasm for fitness.
Benefits Galore
Joining our Ladies-Only Beginners Kickboxing Class brings numerous benefits:
Improved fitness and flexibility
Increased confidence and self-esteem
Stress relief and enhanced mental clarity
Self-defence skills that empower you
Safety First
Your safety is our top priority. We provide all necessary safety gear and ensure that our classes are conducted in a safe and controlled manner. You'll learn to kick and punch with precision while minimizing the risk of injury.
Join Us Today!
Don't miss out on this incredible opportunity to transform your life. Our Ladies-Only Beginners Kickboxing Class is the perfect way to embark on your fitness journey while gaining valuable self-defence skills. Visit our Main website at
ARO Fitness Kickboxing
to book your spot or call us at 07488318906 for more information. Join us, and together, we'll kickstart a healthier, more confident you!